one thing i love it a mani/pedi. it's always so nice to have someone else do something for you, just as a little treat.
unfortunately, going into any of the
many
nail salons around you could be unsanitary and unhealthy for you! unsterilized instruments, not changing filters on those oh-so-relaxing jet spa chairs...well, you get the idea. regulations are put in place to protect the employees and the consumer, but facilities don't always follow the rules.
check out the signs to ensure your nail place is up to par:
Before you go barefoot, check for these healthy-pampering-place clues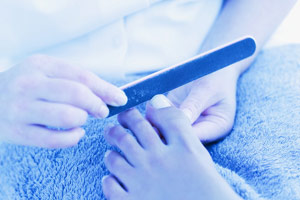 Manicures and Pedicures are a great way to relax and pamper yourself - but it can actually be dangerous if your salon is unsanitary. This guide will help you know what to look for and what to run screaming from.
xo