here's a fun quiz from Total Beauty that is quick and easy and include a few tips at the end to inspire your makeup personality! my results were: you're a
Classic Makeup Fashionista
you enjoy wearing makeup and the way it makes you feel. you know exactly what colors work for you and on special occasions you like to try the latest trends or go a bit more dramatic. you revel in your femininity and enjoy putting time and effort into your look. for everyday makeup, keep the focus on your eyes with shimmery sheer washes of color and flirty, defined lashes. for a night out try a retro pin-up girl look (it's hot right now and easy to do)...
Find the best makeup for your personal style with this quiz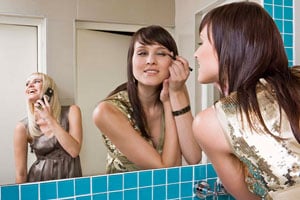 Are you obsessed with the new neon trend or are you more of a stick-to-what-works kinda gal? Take this quiz to find out what kind of makeup fashionista you are and in turn you'll get customized makeup tips and product recommendations that'll help keep your beauty needs satisfied.
xo