if you don't know who Alexa Chung is, it's time to do your homework. not only is she a fabulous, modern style muse, but this former model also hosted a fun talk show on mtv {
It's On with Alexa Chung
}, and will soon be on as the host of Lifetime's
24-Hour Catwalk
{there's also a rumor about a shopping show on PBS called
Thrifting America
, but solid details have yet to surface}.
Alexa not only has amazing style, continuing to keep the fashion world in awe, but she also happens to have a simplistic beauty look that anyone can achieve.
want to get the minimal, but still gorgeous, look for yourself? click the link below and get the step-by-step from Total Beauty's Charli Schuler so you too can recreate the Alexa Chung signature makeup look...
We've figured it out. We finally nailed down the beauty products and application technique to copy the former model's gorgeous makeup look -- make it yours now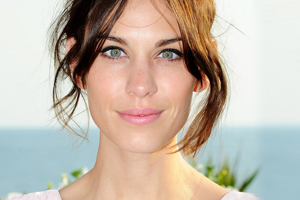 This is a TotalBeauty.com makeup tutorial article
This fashion icon has been called "the most stylish woman in the world" in "Vogue" magazine, and "beautiful and clever" by designer Karl Lagerfeld. And now, as the new host of Lifetime's "24-Hour Catwalk," we can't get enough of her simple, yet flawless makeup. Want to know how she does it?