if you love fabulous accessories and own a smartphone, it's definitely a good idea to dress it up with a stylish case! if you love beauty products, these suggestions from
Total Beauty
are certainly worth checking out...
Show off your cult-classic beauty taste with your smartphone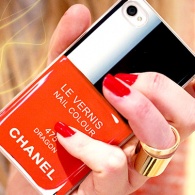 This is a TotalBeauty.com
nails
article
Since cell phones might as well be glued to our hands, think of your case as a permanent accessory. While it's easy to swap out your rings or bracelets, a smartphone case is something you need to pair with every outfit -- like a classic pair of black stilettos or your go-to ballet flats. You want it to be chic and streamlined, but also original. And if you're the beauty-obsessed type like I am, you'll love these sleek cases that feature a pretty lipstick or a classic mirror.
tell me:
which one is your favorite?